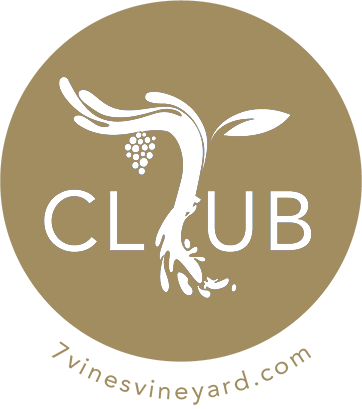 We are excited to ANNOUNCE that CLub 7 is open for new memberships!
Spring Collection Release
2021 Sauvignon Blanc $30
2021 Dry La Crescent $36
2020 Bordeaux Blend Cabernet Sauvignon (Wine Club Exclusive) $75
2019 Merlot $45
FALL COLLECTION RELEASE
2020 BARREL AGES SAUVIGNON BLANC (WINE CLUB EXCLUSIVE)
2020 CABERNET FRANC
2019 MALBEC RESERVE
2021 TEROLDEGO/5 Year Anniversary wine!
Optional 3RD SHIPMENT Holiday Collection
SINGLE BARREL WINEMAKER'S SELECT RED
SINGLE BARREL WINEMAKER'S SELECT RED
LATE HARVEST FRONTENAC GRIS
2022 Membership Benefits
A Club 7 membership includes premier wines, elevated experiences, club-only events and priority access -- a wine lover's dream! You will be the first to enjoy our best bottles, selected just for you, including our Reserve Wines. Additionally, your membership grants access to exclusive events, member-only wine and in-house discounts, plus complimentary tastings!
Four bottles of 7 Vines hand crafted wine are conveniently delivered to your office or home two times a year (8 bottles total), or you may choose to pick your wine up from the winery. Wine club exclusive vintages will be part of each shipment. Your membership package includes exclusive benefits and club events at 7 Vines. Keep in mind that due to shipping regulations, we currently can only ship to our Wine MN, Florida, Alaska. Shipping charge for club members is $20. In-house pickup is always available.
Two release parties with complimentary wine samples paired with tasty bites and live music. Held in May and October.
Complimentary Tour & Taste experience for you and a guest. Book here: https://www.7vinesvineyard.com/tour-tasting. A member must be present. Additional guests are $35 per person.
Four complimentary 6oz glasses of wine to keep for yourself or to share with a friend.
Club 7 harvest experience and Club 7 post-harvest picnic.
20% discount on your total food and wine order on Wine Club Wednesdays (first Wednesday of every month)
20% discount on wine case purchase

s.

5% savings on 4 bottle purchase with your Reusable Club 7 Wine Bag

Exclusive release and purchase options on select Winemaker Reserve wines.

Monthly Club e-notes with tips and insider information to keep you in the know at the winery!
Membership Requirements:
Member must be 21 years of age
Wine club application must be filled out.
New members are obligated to their first two shipments
Members may hold their shipments for up to 1 shipment (after member has received two full shipments).
If you decide to put your membership on hold, after accepting your first two shipments, all Club 7 membership privileges are suspended during that period.
Membership fees are included in the price of each wine shipment. ($20 per shipment)
Two times per year, your credit card will be automatically billed for the (retail value of the wine)+ a $20 processing and handling fee.
A signature from someone 21 years of age or older is required for delivery
Wines may be delivered to your home or place of business, as long as someone 21yrs of age is there to accept and sign for the shipment.
7 Vines Vineyard reserves the right to hold shipments based on weather conditions.
You may select 'pick up at winery' when signing up for the club. If you choose to opt for pick up, you will have 30 days to pick up your shipment. If you do not plan to be at the winery within 30 days of the scheduled wine shipment date, you must select 'shipping' within your application.
All wine club allotments will have tax, handling and shipping (when applicable) applied to each order.
We are so sorry, but 7 Vines Vineyard can only ship to these states at this time: MN, FL, AK
For more information or for questions regarding your membership please contact Pam Rickard, Wine Programs Manager:
Email: PamRickard@7vinesvineyard.com
Phone: 651-478-6300