---

News
---
---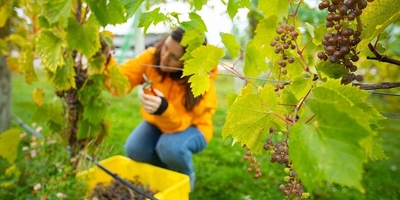 Enjoy a fall day out in nature at the only vineyard-winery on the historic James J.Hill property. Walk in the fields with our Winemaker to learn about the grape-to-wine process and why we exclusively hand pick all our grapes.
Ticket price includes a complimentary 7 Vines Vineyard "Harvest T-Shirt," granola bars, fruit and bottled water plus a $5 "Cheers to You" card, redeemable on a glass of wine for the grapes you had a "hand in picking!" Wear your Harvest 2020 T-Shirt to the 7 Vines wine bar anytime the upcoming year and receive a 5% discount.
Rain or shine the event will take place, as there is a small window when grapes can be harvested. Join us 8-12 on one of the dates, or sign up for multiple dates! All tickets are non-refundable.
We hope to see you reserve a space for you, your family and friends. A wonderful day out with nature and lots of social distancing.
Ticket includes:
Grape picking expereince
7 Vines Vineyard "Harvest 2020 T- Shirt". Receive a 5% discount for a year when you wear your "Harvest 2020 T-Shirt" t the 7 Vines wine bar
Granola bars, fruit and bottled water provided
$5 "Cheers to You" card redeemable anytime at 7Vines
On -Site:
Participants will need to check in at the check in table
Participants will be required to fill out a Volunteer Release and Waiver of liability form to participate in our harvest experience
*Tickets are non-refundable. Ticket price is $25+ taxes & fees.
---
---
---